Great terrific recipes and information from  Dr. P.K. Newby at her website www.pknewby.com. Thanks for listening!  🙂
Mexican Cauliflower
Ingredients
2 medium heads of cauliflower, broken or chopped into chunks (about 10 cups)
~1 tablespoon extra virgin olive oil
1 1/2 cups chopped yellow onion
1/2 cup red pepper, chopped
3/4 cup poblano pepper, chopped (or a combination of poblano and green bell)
1/2-1 jalapeño, finely minced (discard seeds if you fear heat)
3 cloves garlic, finely chopped
2 teaspoons cumin
1 teaspoon chili powder
1 teaspoon oregano
1 teaspoon salt
2 tablespoons chopped chipotles in adobo (1 of the chopped chipotle, 1 of just the sauce, or more of both if you want it even hotter)
28 ounces canned diced tomatoes, unsalted (about 5 cups chopped; if using fresh you may want to add additional canned tomato sauce)
2/3 cup cooked pinto beans (or more, if desired)
1 tablespoon lime juice, freshly squeezed
1/4 cup beer (optional)
1/2 cup chopped cilantro, plus additional for garnish
Instructions
1. Roast the cauliflower. Chop the crucifer and season with olive oil, salt, and pepper and roast in a hot oven as directed here.
2. Sauté the vegetables and aromatics. While the cauliflower is roasting, heat the oil over medium and cook the onion and peppers until softened, about 6 minutes. Mix in the garlic, seasonings, and salt until fragrant, about 45 seconds.
3. Stir in tomatoes and beans.Pour in the canned tomatoes and beans and mix to combine, taking care not to crush the beans, then stir in the lime juice and beer. Simmer for about 15 minutes to allow the flavors to come together. (Note that if you are using fresh tomatoes you will need to allow an extra 20 minutes or so for the raw tomatoes to cook and break down.)
4. Stir the cauliflower and cilantro into the tomato mixture until everything comes together. Taste and reseason with salt, pepper, spices, and chipotles as desired.
5. Serve and enjoy, perhaps with a scatter of cilantro (fresh coriander) to brighten the dish and make the colors pop.
This blog post is dedicated to my faithful and fabulous Facebook fans, many of whom begged for the recipe after drooling over my dinner last weekend. If you're not a fan already, I'd love it if you gave my page a like here to stay in the loop on all things food, nutrition, and sustainable eating.
I hope you all enjoy this incredibly tasty recipe, and do stay posted for how I put this spicy side dish to work in some inspired leftovers.
Like, say, cauliflower tacos and hearty Mexican vegetable soup…
ROASTED BRUSSELS SPROUTS, CARAMELIZED ONIONS, AND TOASTED HAZELNUTS
Ingredients: Brussels sprouts, onions, extra-virgin olive oil, thyme, hazelnuts (aka, filberts), kosher or sea salt, and freshly ground pepper.
1. Caramelize the onions. Slice onions thinly; I use about 3 or 4 large yellow ones because they shrink down considerably when cooking and extra can be saved in the fridge or freezer for another time. Heat 2 tablespoons of olive oil in a pan to medium-low and add onions, cooking until soft and sweet. (More here.)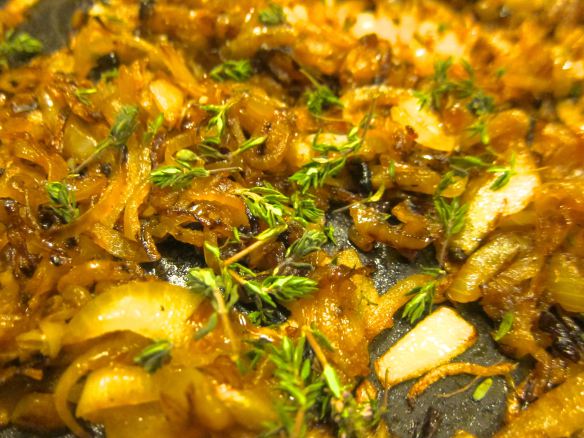 2. Roast the Brussels sprouts. Preheat the oven to 450 degrees F, toss sprouts with olive oil, season with S&P, and cook for about 20 minutes. (Morehere.)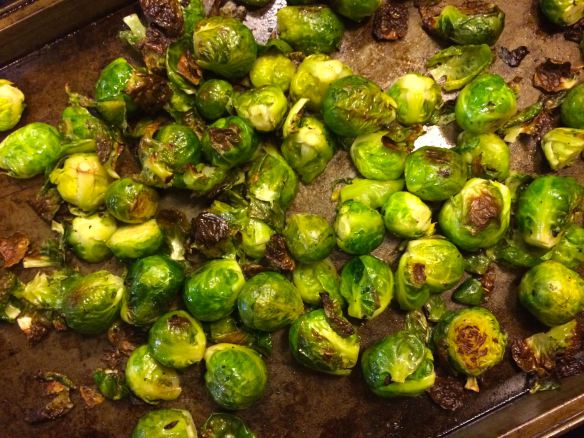 3. Toast the hazelnuts. Turn the oven down to 350 degrees F. Place hazelnuts on a baking sheet and toast until fragrant, about 5-8 minutes. Remove from the oven and throw a towel over them for a minute or so then rub off the skins; no need to remove them all, since they add color and texture to the dish. Chop coarsely, leaving some whole.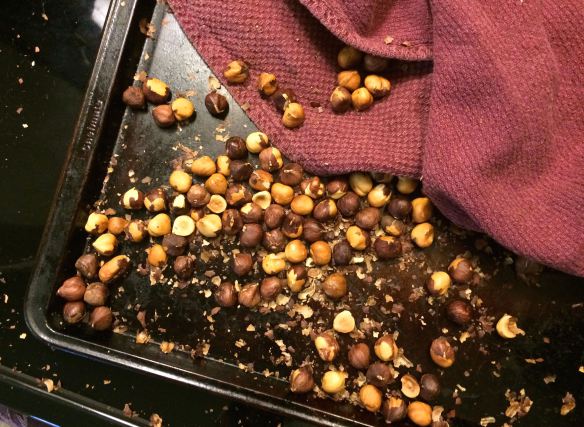 4. Mix it all together. Put sprouts, onions, and nuts together in a bowl in whatever proportion pleases you and mix until combined. Taste and reseason with additional salt and pepper as needed. Spoon into a serving dish and garnish with additional nuts. Feel free to top with an extra drizzle of olive oil for richness and/or a splash of vinegar (sherry, wine, balsamic, whatever) for zing if you like. Or, you could get even fancier with a maple dijon vinaigrette, which is fabulous but not at all necessary.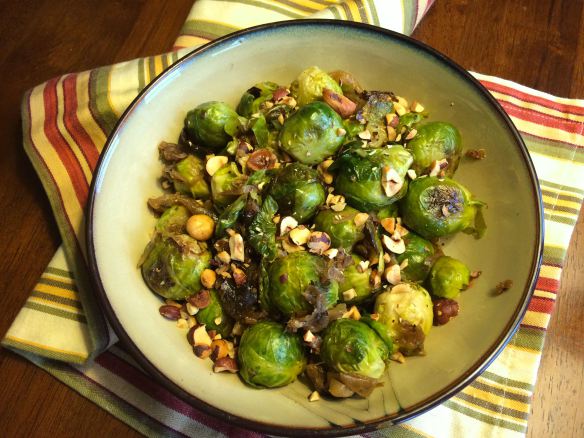 Check out Dr. Newby's website with tons of recipes and great info at www.pknewby.com!